I thought of writing a bio with references to myself in the third person but that isn't my style. I shall be as open and inclusive as I can; I can't tell it all! Here's some of it:
High School Band. L-R: Hank Van Orman, Jack Harrington, Bob

My first musical influences came from my dad who was a drummer during the big band era. My next significant musical exploration came in the form of an alto saxophone I played in the school band in grade school. I must have been in the third or fourth grade. I'm grateful to Shenendahowa Central School, in upstate New York, for a great music program in the 50's! I learned to read music and became aware of my growing fascination.

By the time I got to high school, I'd discovered girls and traded the sax for a guitar. I remember many evenings of rushing through homework in order to learn Beatle songs from 45's; I scratched the hell out of them, learning George's guitar licks! I put together my first band while in high school in Bennington, Vermont; two guitars, drums and no bass. We eventually got a sax player. We had more enthusiasm than ability!

I formed two bands while at Castleton College and played at college hang outs and at Killington Ski Area clubs like the Wobbly Barn and the Sugar Shack. I left college and found myself in my first full time professional band "Karyn". We played in Vermont, upstate New York, Lake George, Albany and New York City.
"Taste". L-R: Bob, Jeff Lutzi, Trudy Cooper, Rick Peters

In 1967, "Karyn" was playing the Eighth Wonder in Greenwich Village, in New York City. A band from Baltimore, "the Progressions", was playing around the corner at Trudy Heller's. The Baltimore folks came in one night, heard me play, and offered me a gig. I was ready for a change and two weeks later found myself on stage at Trudy Heller's, backing up Monty Rock with the Progressions.
"Light". L-R: Walt Bailey, Rick Peters, Trudy Cooper. Top: Bob

I was soon on a train to Baltimore and found myself playing six nights a week at "Judge's", on Greenmont Avenue. I got used to lines around the corner every night and found myself in one of the most popular bands in Baltimore in the late sixties.

We explored our original music and it brought us to a television show seen by Bob Gaudio of the Four Seasons at a time when he and his group were performing at the Club Venus, a popular night spot in Baltimore in the sixties and seventies. Gaudio contacted us through one of our old managers and we came to the club Venus, one afternoon, to audition. He loved our original music and we were soon signed to his company and to a management contract with Jerry Weintraub in New York City. We were introduced to CBS and Clive Davis and began recording.

We found ourselves doing gigs like opening for the Jefferson Airplane, playing the Fillmore East and virtually living in studios in New York City while Bob Gaudio produced and kept us in meatball subs. It was a time of great childish fun; we even mooned Bob in the control room!

We released two singles as "Light". The records weren't received well by my band. I, however, thought Bob Gaudio's vision for our band was considerably better than that of my fellow band mates. There was a parting of the ways. The band broke up. It was a shame; Bob really believed in us!
| | |
| --- | --- |
| "Four Seasons". L-R: Bob Gaudio, Frankie Valli, Joe Long, Bob | Bob & Frankie 2006 |
Bob invited me to come on the road with the Four Seasons as a back up guitarist. Airplanes and hotel rooms soon became my daily ritual. A short time later, guitarist Tommy DeVito left the group and I replaced him as one of the Four Seasons. I think I felt I'd arrived when we performed at the Albert Hall in London!

We had a hit record in England in 1971 and, while in London, we did some recording at Morgan Studios where I met engineer Mal Luker and arranger Wil Malone. Before the Seasons returned to the USA, Morgan Studios offered me a recording deal; so upon return to the USA, I made plans to leave the Four Seasons and embark on a solo career in England. I learned a great deal from Frankie Valli and Bob Gaudio and I have great regard for both! They were always kind and never displayed the attitude some pop stars cram down the throats of press and fans!

Read more about Bob with the Four Seasons»
| | | |
| --- | --- | --- |
| "Sky" in Denmark 1974. L-R: Bob, Betsy Cook, Jim Hall, Steve Howden, Dane Morrell | Bob, London 1971 | "New Moon". L-R: Rick Barnes, Walt Bailey, Bob, Annie, Rick Peters |
Upon my return to England, I recorded my first solo album "Akasha", a work that was a departure from pop, to say the least! Though I subsequently recorded another album and several singles at Morgan Studios, Akasha remains my best work during that period. Its message is mystical and alludes to Universal Love.

I lived in England for over four years working as a producer, arranger, session guitarist, and vocalist. I also found an English wife and two daughters. I returned with my young family to Baltimore, Maryland in 1975. In 1976 we were blessed with daughter number three, born at "Savitria", a "spiritual commune", where we lived and became part of AUM, a school of esoteric study. I taught a course entitled "Music and Astrology". What a hippie!!!

I moved with my family to Phoenicia, New York in 1982 and found a world of new gigs. I worked in several groups with many local musicians. In the eighties, I formed a duo with Jaynie Trudell, a singer-songwriter from northern New York. We worked a lot but broke up when Jaynie headed for Nashville. I spent a lot of time doing all kinds of different gigs! Country, rock, Blues, big band, jazz; I enjoyed the variety!
| | |
| --- | --- |
| "Touch". L-R: Bob, Roger Pace, Walt Bailey, Rick Peters | L-R: Jim Eppard, Kim Wroble, Dave Perazone, Bob |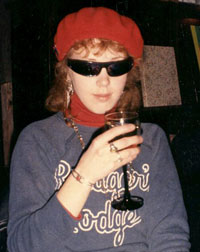 Jaynie Trudell
In 1989 my wife Linda died and I found myself raising three daughters between gigs. That year, I was lucky enough to meet Karen Samuelsen who would become my future wife and companion. In 1992 we moved to Key West for four years.
| | |
| --- | --- |
| Bob at "Rum Runners" – Key West | L-R: Bob, Rob Leon, Tom Buffe |
I played just about every room in Key West! Sloppy Joe's, Rumrunners, The Hog's Breath, Rick's, Durty Harry's, The Pier House, The Ocean Key House, Fat Tuesdays, The Reach, The Casa Marina, The Schooner Warf, La Concha, Captain Tony's, etc., etc.----
We returned home to Phoenicia, New York in 1996. The gig scene for live music has diminished in the Hudson Valley, but I've found pockets of creative energy and some very talented new folks on the scene.
These days, I spend a great deal of time in my home studio. The song writing part of my life has re-emerged as a dominant urge. I'm also gigging in different ensembles and working with some great local and international musicians.
Wendy Neif
Bob & Christine Cordone

Journey Blue Heaven
Bob & Michelle Duff
I've had the great privilege of working with some amazing musicians and, as you might expect, the best ones are relatively unknown. Many of them are gone, lost to excesses that seem to go with the territory! I carry on in hopes of preserving the best of the music business — The Music!
| | |
| --- | --- |
| Bob & Karen | Bob's daughters: L-R: Athena, Beth. Above: Lyra |
A journalist in Baltimore once wrote, "The future is Grimm!" There's less future than past, but it's been a great ride and I plan to stay on the road as long as someone listens!
| | |
| --- | --- |
| | — Bob Grimm |